The New Zealand tourism industry is likely to reap the greater benefit following the opening of the Trans-Tasman bubble, new research suggests.
In the latest results of an Angus & Associates survey 21 percent of Australians indicated that they are likely to travel to New Zealand for leisure in the next 12 months. Similarly, 21 percent of New Zealanders indicated that they are likely to travel to Australia in the next 12 months. While the proportions are equal, the proportion of New Zealanders indicating that they are likely to cross the Tasman has increased significantly since January (from 13 percent in January, to 25 percent in April). Across the four-month period, the level of demand amongst Australians has been more consistent.
"While not all will proceed with trans-Tasman travel in the time period stated, we should see New Zealand reaping the greater benefit because of the respective population size of each country" Research Director Carolyn Parker says. Initial arrival numbers by Statistics New Zealand suggest New Zealand has benefited so far at a ratio of 3 to 2.
The survey asks New Zealanders and Australians about their likelihood of travel for the next three, six and twelve months. A growing proportion of New Zealanders are also likely to travel to Australia in the next six months – from five percent in January to 15 percent in April. These results are in line with Tourism Australia's measure of New Zealander's travel intentions, featured in their recent Market Briefing.
Despite a growing proportion of New Zealanders looking to travel to Australia, New Zealanders' demand for domestic travel is so far largely unaffected by the trans-Tasman bubble's opening. "While a softening in demand is evident in April, it's not a significant change" Parker says. "In April 63 percent of New Zealand respondents said they're likely to travel in New Zealand in the next six months. This compares with 65 percent in January".
In terms of the profile of visitors to New Zealand from Australia, survey results show that Australian visitors in the coming months are more likely to be male, more likely to be younger Australians (under 50 years), and more likely to be those with children aged 5 to 14. "As Australia's vaccination programme progresses it will be interesting to see if the age profile of intending travellers skews older" Parker says.
Angus & Associates' survey also measures likelihood of travel to the Pacific Islands. Notably, given a Cook Islands travel bubble is signaled as imminent, survey responses for the year to date show that 12 percent of New Zealanders are likely to travel to the Pacific in the next 12 months.
The total survey sample for the period covered in this release (1 January to 30 April 2021) is n=1,820 – n=1,014 New Zealanders and n=806 Australians. Respondents are 18 years or more and representative of the general population.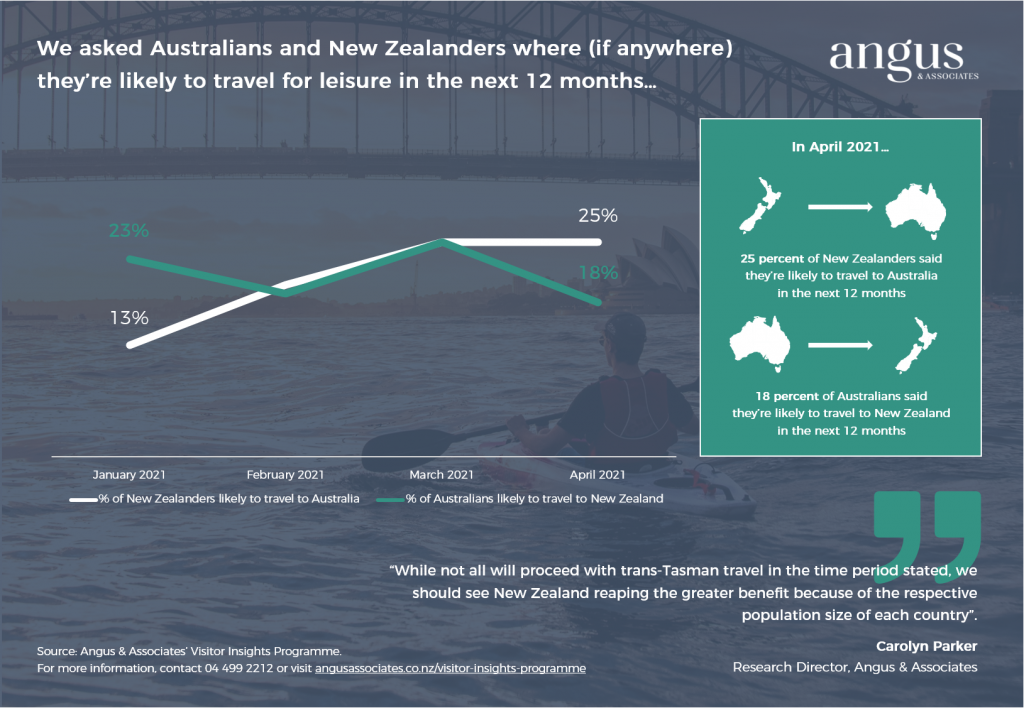 A high res copy of the graph for publication with this story is available here.
——————————————————
ABOUT: THE VISITOR INSIGHTS PROGRAMME
The Visitor Insights Programme is an ongoing study of New Zealanders' and Australians' travel motivations and experiences which has been running for 10 years.
Research and strategy specialists Angus & Associates conduct the Visitor Insights Programme to gain a long-term view of New Zealand and Australia travel trends. The survey captures the opinions and experiences of 5,000 New Zealanders and Australians annually and provides a valuable bank of insights for subscribers into domestic and Trans-Tasman travel and tourism activity.
——————————————————
ABOUT: ANGUS & ASSOCIATES 
Angus & Associates is a Wellington-based research and strategy company established in 2002.
Angus & Associates collaborates with many corporate, public and government organisations in New Zealand, Australia, Europe, North America, and the Middle East providing marketing, research, and strategic planning services. We provide the specialist tools and knowledge so our clients can do business better and gain their competitive advantage.
Angus & Associates has won awards and accolades, including the coveted TIA (Tourism Industry Aotearoa) Industry Enabler Award (twice) recognising our valued contribution to New Zealand's tourism industry.
ENDS
——————————————————
For media queries please contact:
Carolyn Parker
Research Director
+64 4 499 2212